About this blog
Hello my name is Eric Burdon and my role in life is to help you live a more positive life!
I'm not claiming to be some "life guru" who knows the secret to life. I happen to be an ordinary individual just like you. But every day I learn some things that can help you and I'd like to share that.
From looking around in the world I realize there is a lot of unhappiness. Even though people are generally more intelligent, it seems we are all looking for happiness in our lives.
Here's some data to put things into perspective:
According to the World Health Organization, globally over 300 million people of all ages suffer from depression.

Google reports that the terms "how to be happy" are googled at least 100,000 times per month on average.

Depression is a condition that affects 1 in 10 Americans during some point in time in their lives.

Over 80% of people who are clinically diagnosed with depression ARE NOT getting proper treatment to deal with it.

And lastly the number of patients diagnosed with depression increases by 20% per year.
The causes of depression are vast, but one thing is certain: depression is a state of mind. I know that from my own personal experiences.
That's where I come in
My goal is to help people live a more positive life.
To repeat, I'm not some guru. I'm a guy going through life and I want to share my story. I believe that it can help people. 
I also want to be learning along with you so I'll be doing research. I'll be looking to other people to learn and grow from too.
It's why I allow people whom I collaborate with to share ideas and information. It's also why I encourage others to share their stories, even if writing isn't their thing.
My goal with this blog is to share valuable pieces of information stemming from my own experiences or something that I read. I'll be wrapping it up behind research, quotes, and of course my own experiences and feelings. I'll be sharing that every Tuesday.
I'll also be writing about my own journey towards improving myself every Sunday. Currently I'm focusing on my health so if you want to keep up on what I'm learning and what I'm up to health-wise look out for those posts on Sundays.
But above all, I'd like to create a network from this.
A positive tribe as it were.
As such, it's important that I hear from you your feedback, comments, and questions.
Furthermore, I'd like to bring other people in to share experiences to this blog. These experiences will provide value that can lead to a more positive life or a stronger mindset.
I'm doing this because even though one person can make a huge difference in the world, a group can do so much more. This movement I desire to create is much larger than me.
So let's make a difference and grow together!
To your growth!
Eric S Burdon
---
If you like my written work, I think you'll enjoy my Youtube channel as well! It's been ranked 31st out of the top 50 Self Improvement channels according to Feedspot. Check it out here.
Here's a badge honouring that too.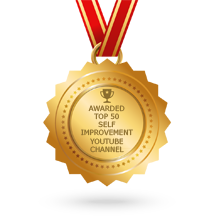 Connect with me on social media and other sites.
Twitter: @ericsburdon
Instagram: @ericsburdon
Facebook: Eric S Burdon
Youtube: Eric S Burdon
Pinterest: Eric S Burdon
Medium: Eric S Burdon